INFORMATION REGARDING POSSIBLE CRACKS ON ASAP LOCK
FACT: MARCH, 30 2016 - During routine equipment inspections one customer detected cracks on the stainless steel arms on three ASAP LOCK. These three defective products will be returned to Petzl for analysis.
APRIL 18 2016
ROPE ACCESS AND CONFINED SPACE

Petzl immediate actions
We have inspected our inventory and have not found cracked ASAP LOCK arms. 
We have audited the ASAP LOCK production plant. The quality inspectors who inspect each individual ASAP LOCK before packaging have never seen this issue. 
We have begun a technical investigation to determine the cause of this exceptional event.
Risk assessment for the users
Extreme tests:
We have intentionally cut both stainless arms at each rivet, to simulate potential cracks. 

ASAP LOCK before test with multiple cuts to simulate cracks
We performed the EN12841 test with a Petzl PARALLEL 10.5 mm rope and Petzl ASAP'SORBER.
We performed a static tensile test with a Petzl PARALLEL 10.5 mm rope. 
Dynamic Tests results: 
The fall was arrested and the mass was not released.
The ASAP'SORBER was deployed. 
No deformation of the cuts due to the dynamic test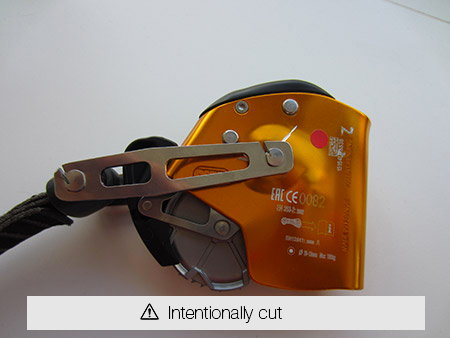 ASAP LOCK prototype after dynamic test
Static tensile test results:
Rupture of the rope sheath at 7.2 KN 
Visually apparent opening of one cut but without rupture of the component or release of the load. 
Conclusions:
As described in the instruction for use, Petzl ASAP LOCK must be used with the ASAP'SORBER or the ABSORBICA L57. These two shock absorbers limit the dynamic forces to 5KN.  
In the worst case scenario, a cracked ASAP LOCK arm presents no additional risk to the user. 
However, the presence of such cracks in the arm requires immediate retirement of the ASAP LOCK. 
Investigation of the causes of these cracks
This first investigation is only based on the pictures and email we received. A complementary investigation will be conducted as soon as the three cracked ASAP LOCK are returned to Petzl. 
Because all cracks of the three defective ASAP LOCK are located around a rivet, our working hypothesis is that the cracks are the result of a combination of the riveting parameters that create a potential residual tensile stress in the stainless steel, and the heat treatment that results in this part being too rigid. In that case, the cracks will initiate always in the smaller section, and will appear over time. The gradual appearance of these cracks makes them undetectable during Petzl's final quality inspection. 
Only a very small number of units may be affected by this phenomenon. Today, only these three ASAP LOCK have been reported to us with cracks on the stainless steel arms.
Petzl corrective actions
As an immediate measure of precaution, technical modifications will be implemented on the manufacturing process of the ASAP LOCK:
Adjustment of the riveting parameters to eliminate potential residual tensile stress in the stainless steel parts. 
Adjustment of the heat treatment parameters of the stainless steel parts to reduce rigidity of the material.
Petzl Recommendations for ASAP LOCK in service
Regularly inspect your ASAP LOCK in accordance with the ASAP LOCK PPE checking procedure
A cracked arm presents no additional immediate risk to the user. However, as with any PPE, the presence of such a crack requires an immediate retirement of the product 
In the unlikely event you find a cracked arm, retire your ASAP LOCK immediately and contact your local distributor for a replacement under warranty.
ASAP (B71 AAA) is not concerned by these recommendations. 
Future actions
As soon as we receive the products in question, we will send them out for metallurgic analysis, in order to confirm the investigation hypothesis. We will also perform dynamic tests on the ASAP LOCK. This complementary analysis may initiate other corrective actions.
Petzl continues to investigate the potential causes of these cracks, and will communicate its findings as soon as possible.
Petzl is committed to continuously improve its products to serve the communities with high quality tools and continue to earn the trust of its customers. We are sorry for any inconvenience that this issue may create. We commit to do our best to solve quickly this problem.
---
 Our Thoughts:
While this has been proven not to be an immediate safety issue, Dynamic Rescue suggests that you continue to inspect your gear periodically and before use.  This is best practice for all gear and especially important for life-safety equipment.  We will be contacting any customer who has bought an ASAP Lock from us in the past but if you should notice any cracking of your ASAP lock, please let us know and we will assist with the replacement process.
Stay safe,